Roll-Off Roof Observatories
Now in our 18th year of providing the highest quality, ever-customizable observatories available. Our backyard observatories are made to ensure years of reliability and enjoyment. With high-quality, residential-type construction, they are virtually maintenance free for years to come. At Backyard Observatories we hope you will find all the services and products to suit your observatory needs. With over 35 years of residential and commercial construction experience, we've constructed over 300 Roll-off Roof Observatories to date, across the entire United States.
Our observatories have been built to any size that fit our customers' needs from a cozy 9.5' x 9.5' all the way up to 24 x 40. Standard sizes and prices are on our pricing page but if you need a size not listed just let us know.
The m1OASYS Observatory Automation System
This extremely flexible and robust system is a must-have tool for anyone wishing to secure, monitor, control, and integrate their telescope observatory. The m1OASYS works with popular image acquisition programs like CCDAutoPilot. The m1OASYS is a do-it-yourself package that is easy to install and configure. The architecture for this system is based on an industry leading home automation system. This core architecture, along with the addition of key hardware and software components makes the m1OASYS much more than a simple roof motor relay system, it is a complete automation system capable of doing some truly amazing tasks.
BYO's Latest Milestone:
Over

300
Roll-Off Roof Observatories Built!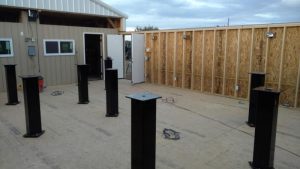 From Astronomy Techology Today: Backyard Observatories has announced they are building a new remote telescope hosting facility in Northern Ohio. The "NORTH" (Northern Ohio Remote
Read More »


Backyard Observatories has been a regular attendee at NEAF SINCE 2004. It is an excellent opportunity for Backyard Observatories and other vendors to display their
Read More »
We're sure you have questions – use this form or email or call us using the contact information in the footer below.  Our schedule keeps us on the road most of the year, and we're often in areas with no cell phone or Internet for prolonged periods of time.  Please be patient, we will get back to you.